Lord Howe Island is a small island paradise approximately 600 kilometres off the coast of mainland Australia. With just a few hundred permanent residents, visitors are capped at 400 at any time and it is a popular holiday destination for both Australians and international tourists.
The Australian winter is in the months of June, July and August, which is the off-season for Lord Howe and you might not think is the best time to be visiting, but depending on what kind of holiday you like there may actually be some good reasons to think about visiting at this time of year. I visited at the beginning of June and thought it was a great time to go.
This post contains affiliate links. Making a purchase though these links earns a small commission at no additional cost to you and is a great way of showing your support to this site.
Reasons to visit Lord Howe Island in Winter
It's Cheaper
The restricted numbers of visitors allowed on the island mean it's a destination of some exclusivity, and as with any tourist destination it can be expensive to visit in peak season.
Accommodation will be cheaper at this time of year, and chances are you'll find flights are too. Qantas flies to Lord Howe Island's tiny airport with several flights daily, and if you're a Qantas Frequent Flyer member and can be somewhat flexible on your dates you may even snag yourself a reward flight for just $90 and 6,000 points.
It's Quieter
Being such a small island you can imagine the town and beaches can get pretty busy in Summer, and it might be harder to get reservations or the accommodation you want.
I would estimate there were less than 100 people visiting Lord Howe Island in early June. The locals get to know your face and name and everyone says hello or stops for a chat. It's a really nice friendly place where everyone waves or nods as they drive or cycle by. I'd been noted walking around with my camera and was asked where it was if I was seen without it, and what I'd been shooting that particular day.
The Weather
Lord Howe Island's weather is pretty mild even in winter. It was warm enough for t-shirts during the day with just a jumper needed at night. The water wasn't overly cold and the days were warm enough for swimming.
Even the days when the weather forecast listed rain usually meant it was a 5 minute misty rain and then the rest of the day was lovely.
Last minute plans are easy
Advance bookings for everything are essential in peak season. I was able to walk into a restaurant and get a table, or book a tour the day before.
The flip side of this is that some parts of the island will shut or wind down for the Winter. While there were still a few operators running tours a number of others had shut down, and while there were still plenty of food options to choose from, some restaurants had closed or were operating on reduced hours.
So if there is a particular place you are interested in going or tour you want to take, it is worth making enquiries to ensure that it will be running when you plan to go. The tour operators still running told me they would be finishing up by mid-June.
But if you like the kind of holiday where you are happy to do your own thing and take care of yourself, then Lord Howe Island still offers you plenty to do.
Things to do on Lord Howe Island in Winter
Visit Neds Beach
Even though I am no water baby, this was actually one of my favourite things I did on the island. During the day you can hire snorkeling gear and wetsuits to have a closer look at the reef and purchase a cup of specially formulated fish food, all by placing your money in the honesty box. Much of Lord Howe Island is a protected marine area so fishing is not permitted, kids and adults will love standing in the knee deep water as scores of fish bump against their legs for a feed.
Neds Beach also happens to be a great photography location.
Photography
Wildlife
Lord Howe Island is known as a premier bird watching location, and while the migratory birds have mostly moved on by Winter, except for a straggler or two, there are still plenty of resident birds left to photograph. Head for the airfield for an almost guaranteed chance to photograph the resident Sacred Kingfishers which love to sit on the fence there.
Flowering trees will have plenty of Lord Howe Silvereyes and you might be lucky enough to catch a Lord Howe Golden Whistler – both a subspecies which is only found on Lord Howe Island.
In town you might be lucky enough to spot some Noddys on the roof of the post office, and a Tern or two that has chosen not to migrate for the season. White-Faced Herons, which happen to be one of my favourite bird subjects being comparatively slow-moving and quite photogenic, might be found wandering along the beachside areas. You can pick up your pocket field guide to the birds of Lord Howe Island in a number of stores around the island for $12.
Clifftop locations such as the peak of Mount Eliza offer the chance to catch some seabirds, and if you take a boat trip you'll likely see even more, including the chance at a whale on its Winter migration or Bottlenose Dolphins which frequent the area. You may even be lucky enough to catch an Albatross, which tend to be curious about boats and will often fly close enough for a decent shot. Just bear in mind that the water is a lot less still outside of the safety of the lagoon, so some motion sickness tablets might be a good idea if, like me, you aren't always the best traveler on water!
If you have an underwater camera snorkeling offers the chance for sightings of Galapagos Sharks, Rays and turtles along with oodles of fish.
Landscapes
There is no shortage of stunning vistas from which to shoot on Lord Howe Island. Head to Neds Beach to catch a sunrise between the cliffs or Lagoon Beach for an easy sunset over Mount Eliza. When the surfs up head for Blinky Beach near the airfield to photograph the waves.
Astro
There is very little light pollution on Lord Howe Island, making it the perfect location for a bit of Astrophotography when the conditions are right. Winter is the best time for photographing the Milky Way, and while there are probably plenty of spots you can find to shoot, Neds Beach is well away from light sources and offers the chance to play with light painting the mountains with the Milky Way above.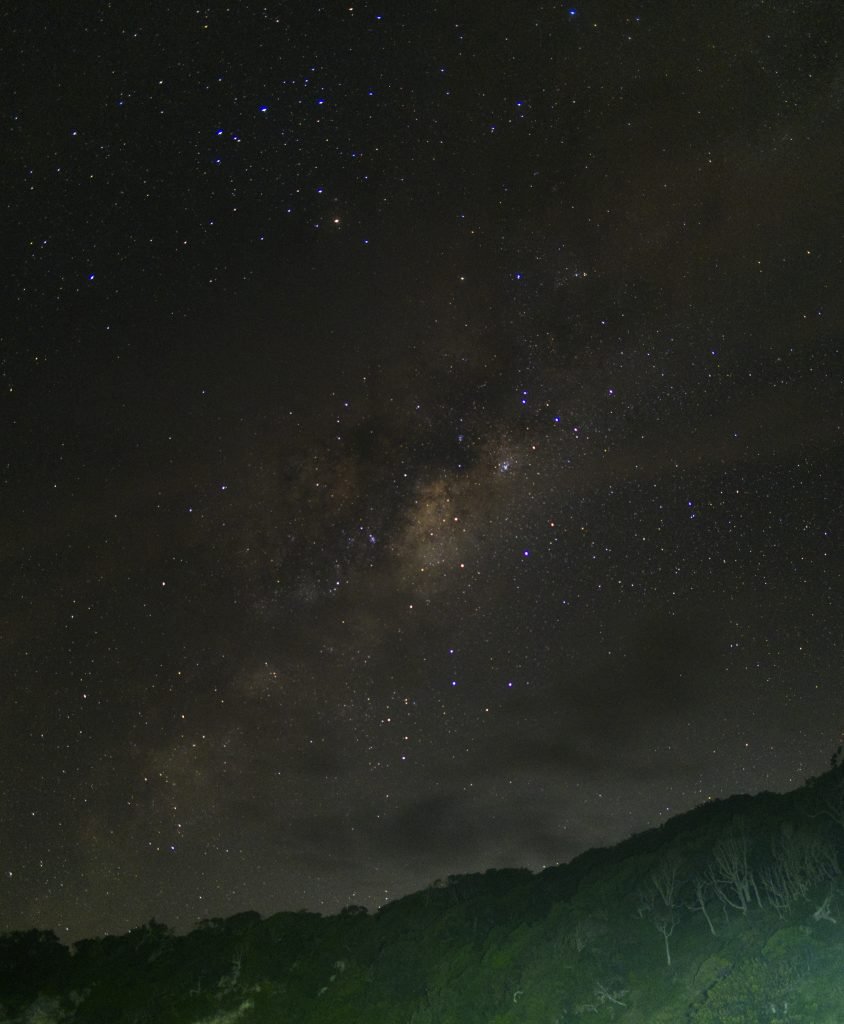 Hiking
While Mount Gower is probably the most famous hike on Lord Howe Island, it does require a guide and a full day to do it due to the difficulty. However there is no shortage of other hikes to do which don't require a guide and offer plenty to enjoy. I managed to fit in a hike to the Valley of Shadows and a climb up Mount Eliza, which was plenty challenging in itself if you start the route from North Bay. The final part of the hike does involve some scrambling and it is alongside a rather big cliff, so this isn't one for the faint-hearted either!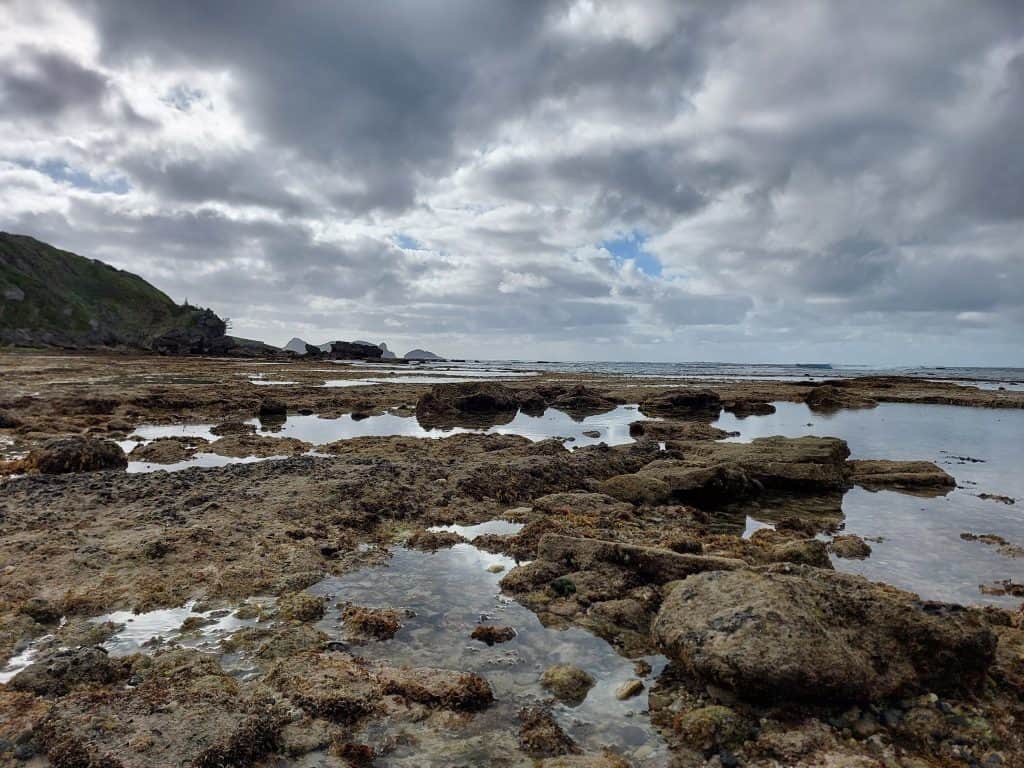 Given there is no phone service on Lord Howe Island, and internet is only available in a handful of designated locations, it's a good idea to let your accommodation know your plans. I had my PLB with me in the event of an emergency, but this wouldn't have done me much good if I hadn't been able to activate it, a reality brought acutely home to me when I took a spill coming down Mount Eliza.
Kayaking
At least one of the boatsheds was still open in early June, and Kayaks could be hired for a paddle around the Lagoon unguided.
Visit the Lord Howe Museum
Curated by resident naturalist Ian Hutton, The Lord Howe Museum is open reduced hours during the winter months so you may find it is only open a couple of days a week. Entry is free and it features natural history collections and changing displays. It also hosts regular events and weekly lectures on birds of the island, even in winter, delivered by Ian himself.
Where to Eat on Lord Howe Island
There are plenty of options for places to eat on the island, although be aware that some will close for the Winter or operate reduced hours so choices may be reduced.
Lord Howe Island has a delivery ship arrive fortnightly with supplies, so the local restaurants have an emphasis on fresh produce which can be obtained from the island.
During the high season bookings for all sit down venues are required, and while I booked my first couple of nights after that I just walked in and I was never turned away.
Thompsons General Store
Open at 9am, Thompsons was open during the first week of June but it was their last week of operation for the season. They do a number of burgers and sandwiches plus coffee.
Their bacon and egg roll is truly amazing so worth the visit if they are open!
The Anchorage
Located in pretty much the centre of the only spot you could really call town, the staff at Anchorage told me they were open year round. They don't open until 10am in winter though so if you're after that early coffee or breakfast this isn't the venue.
Some of the pricier meals I had on Lord Howe, the food was delicious and there were different specials every night.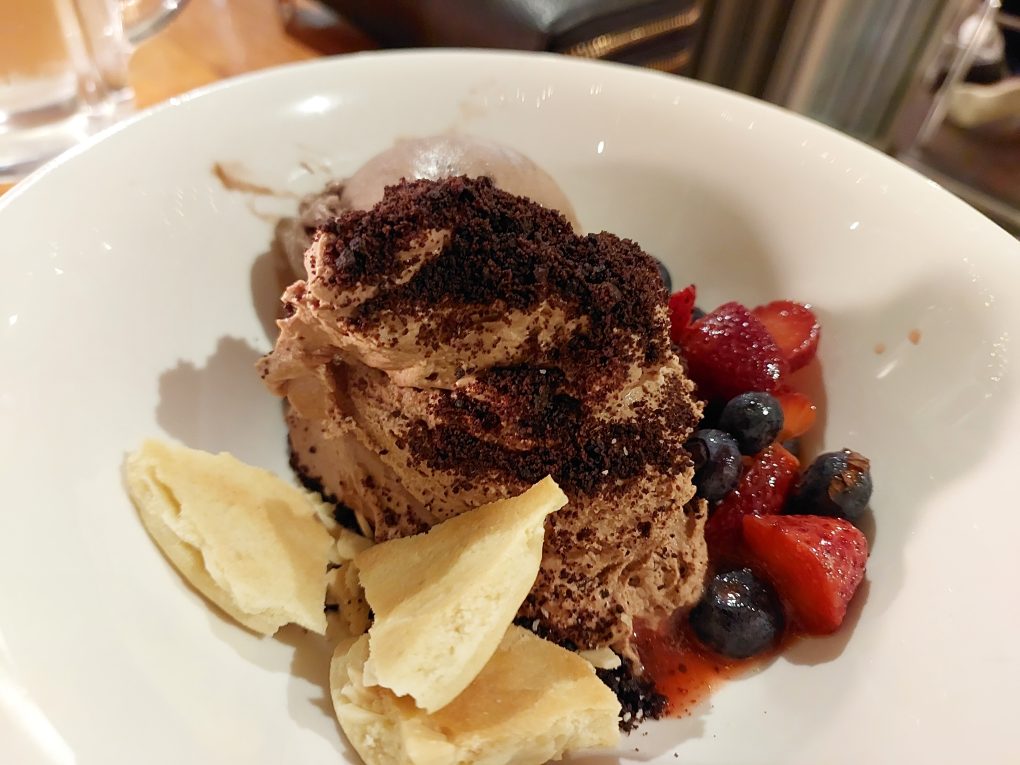 The Crooked Post
Situated directly across the road from The Anchorage, The Crooked Post is a cocktail bar primarily, but serves a walk-in meal for dinner on Sundays and lunch a few days a week. There's no menu, whats being cooked up for Sunday dinner is put on the board in the afternoon, when I went it was a Fish Curry. No bookings are required.
They have a great balcony area out the back which can be enclosed from the cold and wind or open on warmer days. I enjoyed a cocktail over my book before heading to dinner on several occasions. They also have the locally brewed beer on tap.
Driftwood
One of the fancier restaurants on the island, Driftwood was also on its last weeks of operation at the start of June.
Located on site at the Ocean View Apartments the menu is more Asian inspired than elsewhere on the island but was exceptionally good.
Ocean View Apartments also serve real coffee every day from 7am – 9am. The owner joked with me he had got sick of not being able to get a coffee anywhere first thing in the morning and so had put in a machine.
Ocean View Apartments are a short walk from the town centre via the road, or a shortcut directly there through a field that starts by the tennis court on Neds Beach Road.
Bowling Club
Serving pub style food five nights a week, as the Bowling Club is a little farther afield you may find your accommodation will transport you there, while the Bowling Club will drop you back after a couple of hours. If you don't mind the walk it is definitely still walkable, as everything on the island is.
Lord Howe Island Brewery
While I didn't get the chance to eat here I have been told by several people that their pizza is one of the best meals on Lord Howe Island. Brewery tours are conducted on Thursday afternoons for $20, where you'll hear about island history, all the Brewery does to supplement the island supply through their extensive nursery, and how involved they are with the growing and export of the native Kentia palm.
Jims
This was a hidden gem discovery for me as I happened to walk by on my way past to the grocery store. It is literally a backyard operation, where the residents built a cafe frontage in their yard and installed all the gear! Their coffee is probably the best I had on the whole island and they are open early! This is where the locals frequent for their morning coffee!
They don't cook out the front but offer a selection of wraps and sandwiches for breakfast which can be heated, and they work with locals to offer a range of sweet treats.
They are open Sunday – Thursday from 7.30 – noon and they did tell me that they planned to be open for the whole season. You can find them on Middle Beach Road. You'll walk past them if you are heading to Joy's Shop for supplies.
Where to buy supplies on Lord Howe Island
If you're the kind of traveler that doesn't mind cooking for themselves to save a bit of money, then the closure of some restaurants isn't really going to pose a major issue for you. Even if you do like to go out for a meal, chances are you'll want to stock your room with drinks and snacks, or even have breakfast before the restaurants open.
Joy's Shop
This is the number one place to head for supplies. Joy's Shop is a large and well stocked general store with a range of fresh food and non-perishables on offer, and its a great place to look for anything you might have forgotten to pack! I bought a hat and travel sickness pills there. While there are a few other stores closer to the town, the selection is much more limited and I wished I'd waited til I made it to Joy's before I shopped.
Thompsons Store
You can find some supplies available at Thompsons, but selection is much more limited.
Diamonds
Located near The Crooked Post, Diamonds is a small store offering a combination of fresh and non-perishable food options.
The great thing that they offer is pre-made local meals which can be thrown in the oven or microwave. A fantastic alternative to going out for a meal but not having to put the effort into cooking for yourself!
What you should take to Lord Howe Island for Winter
Luggage limits for traveling to Lord Howe Island are strictly enforced, so you wont have the ability to pay for more. You'll have 7kg carry on and 14kg checked allowance, which you'll find when you pack isn't really all that much, so you'll want to pack items which are versatile.
You will get both cool and warm weather, with potentially some misty rain, so you'll need the whole swimmers, jumper and spray jacket range of clothing, plus some good walking shoes.
Some other things you may not think of to bring;
Tablet; this has become a travel staple for me. I've downloaded the Kindle app to it so it replaces that, you can pre-download movies and TV for watching on the flight or on the quiet nights in (there's not really an active night life on Lord Howe) and in the case of your phone not being operational (as happened to me on day 2) its an alternative means of contact with the outside world if needed. I can also use it to view my photos from the day using an SD card reader.
Torch; there aren't a lot of streetlights on Lord Howe Island, not so much of an issue with the longer days of Summer but definitely one in Winter! Most people will think to just use their phone, which is great except if something goes wrong with it. A headtorch will do the job too and takes up barely any weight!
Water Bottle; I always have a reusable plastic water bottle I travel with to save on buying single bottles of water. As a hiker water is really important! Mine fits nicely into the side pocket of my backpack.
A good backpack; my backpack is my carry-on bag, which serves as a great day pack for those daily adventures! The Denali daypacks are great!
Compressed Towels; A new discovery and staple addition to my backpack, these take up the space of a mint and with a bit of water expand into a little towel. Great for cleaning up on the go and biodegradable (though sadly the wrapping isn't.)
Safety on Lord Howe Island
Its important to remember that there is no phone service on Lord Howe Island, so if you get in trouble outside of the limited range of the local wi-fi you can't call for help.
Its a good idea to let your accommodation know when you are heading out and when you expect to return. I also carry a first-aid kit at all times and my Personal Locator Beacon. It's best to research what PLB is best for your needs as there can be quite a variety in products.
Would you travel to Lord Howe Island in Winter?
If you enjoyed this please share!
Please follow and like us: